Hexidek
The modular solid wood mosaic
How does it work?
A quick Google search for "balcony garden ideas" reveals a huge and growing demand for creative small-balcony-garden solutions. If you have an old or unappealing balcony that you underuse, then Hexidek may be the solution you are looking for. Hexidek will turn your balcony into a special space where you will want sip a coffee, read a book, have a BBQ or just enjoy taking care of your plants.
The product uses decking and flooring offcuts that would normally go to waste. The main species used is Australian Cypress, a highly durable, stable Australian wood that is water, mould, rot, and insect resistant.
Hexidek is simple. It consists of a polypropylene base and half-hexagon or hexagon lozenges of wood that attach to the base without hardware.
3
300mm from top corner to bottom
Tile Patterns
In the factory these are connected in various configurations to make panels, a few of which are shown here. The dark accents are made from Australian Jarrah.
These tiles are simply clicked together on site to make patterns such as those in the following pictures. A balcony area of about 15m² can be laid in an hour of so. It is very quick and easy and requires no previous experience.
What about those irregular edges?
No problem, to fill the edges we have trim made for the job. In the picture is an exploded view of the Hexidek configuration with trim. The trim can be used to finish off a deck of any size. You can also use other materials, such as artificial grass or snow-stone, to make highlights and borders.
Amazing Feature wall idea. Another great application for Hexidek with unlimited creative potential (Think pixels. Make your own design on the computer and we will do the rest.)
Incorporation into larger deck designs
Hexidek can be incorporated into conventional decking to create a unique space. There are many ways to do this, and the example below is just one. The options are only limited by your imagination. The decking material will need to be laid on 10mm battens to bring the surface up to the same level as the Hexidek. Adequate gaps must be left for drainage.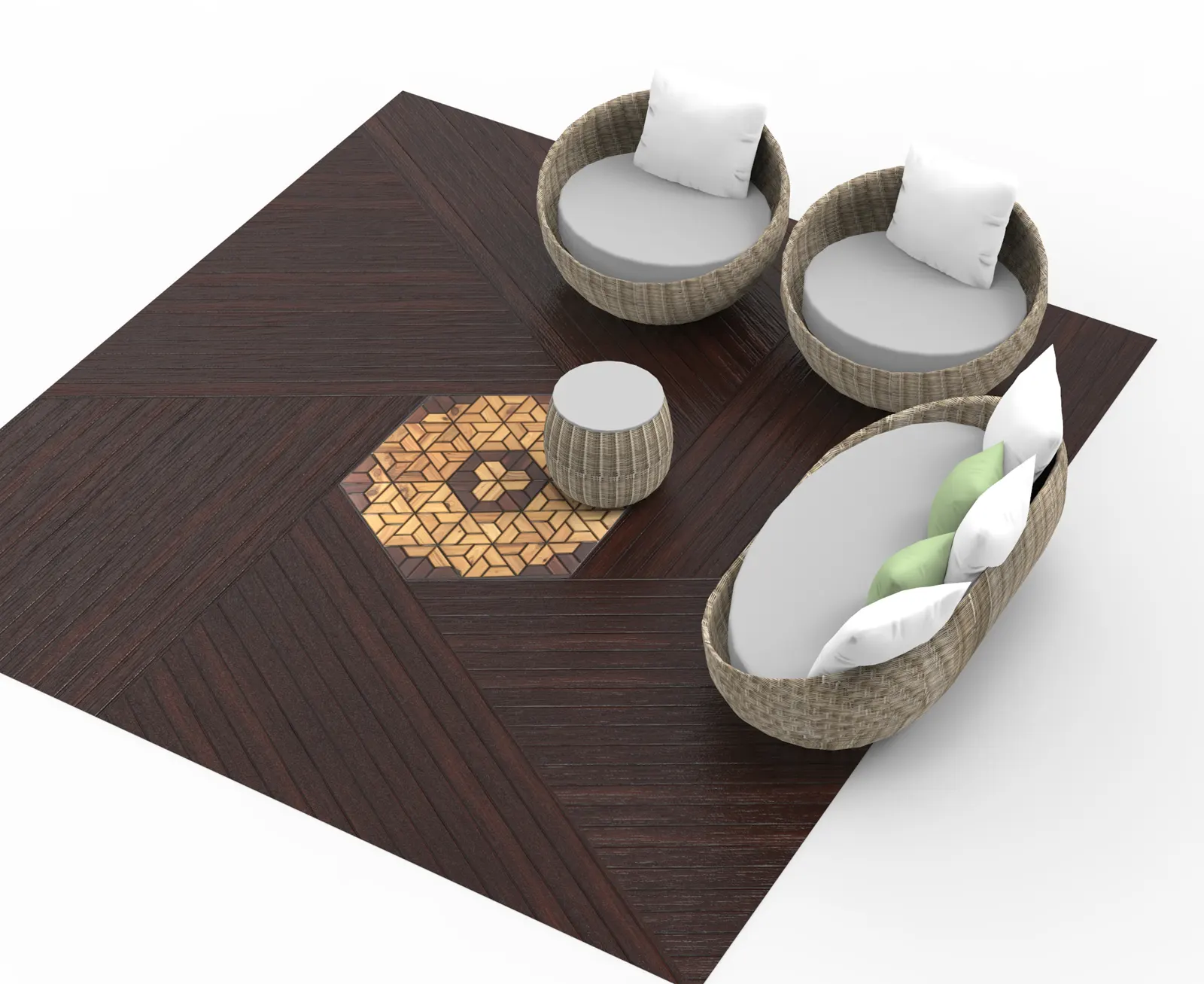 1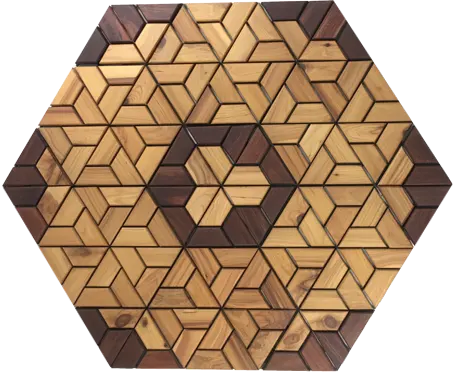 A Hexidek area can be nicely integrated into a larger decking space, for example to highlight specific social areas
Hexidek is raised on tiny feet slightly above the concrete floor and will allow water to run off as usual. It can be squired with water (at low pressure) to flush away dust. As there is no wood-to-wood contact, nor any wood-to-floor contact, it will dry quickly. The occasional wipe with a low VOC, low odour deck oil will help to preserve the surface colour of the wood.
It will not rot, mould or be attacked by bacteria or insects, indeed insects dislike it and even termites will not eat it. In this application, even out on your balcony the wood will last for at least 25 years.
The hexagonal tile base of Hexidek is made of polypropylene plastic, which is highly durable, especially when it is protected from the sun by the cover of wooden blocks.
Please download our brochure